Just scoping out the scene down in T-Town! Sorry University Place, you will always be south Tacoma to me. Brand new truck and fancy Carbon Fiber Sonys! Canon 95x with a stabilizer, probably worth more than my house! They are bringing out all the big guns for this shindig!
I'm a greenhorn in the golf world but I was tracking the ball on my first try! Thank you baseball! Nothing beats on the job training! Thank you Fox.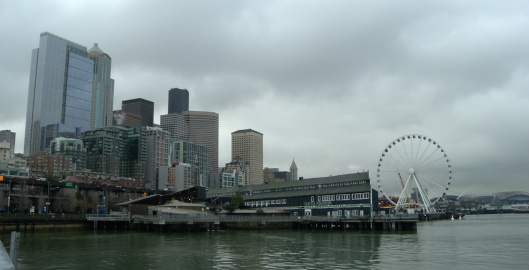 Almost finished up with a quick shoot and edit for the Seattle Aquarium. It's a series of educational videos for middle school students to watch on iPads. They will be doing some lab work and these videos will be part of a training session on pH and CO2 levels in the ocean. Looking good!
We've been shooting on the little Lumix GH2. Looks great and way too easy to shoot with in tight quarters. Couldn't do it with the full size p2 camera. The HPX300 looks great but it's kind
of large.
Shooting double system with a tascam dr40 recorder. Sync them up in FCPX in about one second and off we go. Sounds really good. Better than the big camera really. Not really fair but that is the fact. I'm almost done with big cameras. Almost.